Volunteer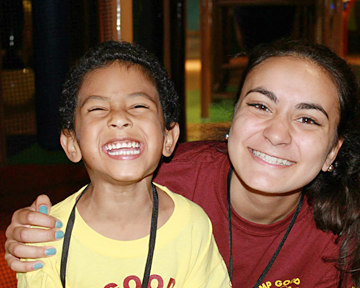 While Camp Good Days is built on the shoulders of generous donors, the many working hands of devoted volunteers uphold us.

Camp Good Days and Special Times prides itself on the quality of its volunteers. Our volunteers come from all walks of life and strive to improve the quality of life for children and adults in our programs who are diagnosed with cancer and other life challenges. There are a variety of ways people can volunteer at Camp Good Days.
If you need more information, please call 1-800-785-2135, or visit our contact page.
Summer Camping Programs
Give the gift of time to one of our camping programs. Volunteer to work as a camp counselor, kitchen staff, security, or assistant in one of our specialty areas (e.g. arts & crafts, woodworking, etc.). Bookmark this page as events are always being added.
Looking for a great summer adventure? Apply to be a volunteer at one of the Camp Good Days and Special Times summer programs. An adventure that lasts a lifetime!
Attention: Camp Good Days and Special Times is a SMOKE / TOBACCO FREE facility.
Any questions or for information about our summer volunteer programs, please contact Caitlyn Bailey, Camp Director cbailey@campgooddays.org, or call 800-785-2135
Please follow this link to volunteer at a summer program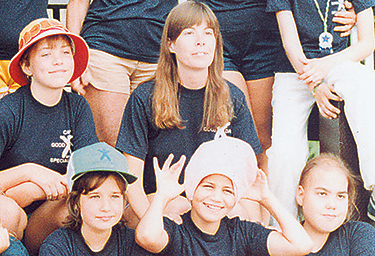 COME BACK TO CAMP!
Camp Good Days and Special Times is holding a Reunion Weekend for former campers, volunteers and staff in honor of our 40th Anniversary!
Come back and reconnect with old friends and make new ones.
The dates are July 20 - 21, 2019. There are three packages to choose from.
Volunteering for the Junior Good Days Programs
The Junior Good Days Programs now have an appropriate volunteer application form for each region.
If you are unsure of which region, please call 800-785-2135
Please follow this link to volunteer for the Junior Good Days program
Year-Round Programs
Every summer, the children that attend Camp are able to form new bonds and maintain old ones with others who can understand exactly what they are going through. Unfortunately, at the end of the week, when the children go home, they may be far from their friends and may not see them again until the following summer, thereby losing that support. By providing year-round programming, Camp Good Days hopes to keep the bonds formed at Camp strong, while providing support for the entire family.
It takes hundreds of volunteers to keep these such programs going. Visit your Regional Office page for more information on how to get involved with year-round programs