Event Spotlight
Cycle For Hope
Visit area fitness centers and support Camp Good Days for Cycle For Hope, an annual spinning event!
Read more
Program Spotlight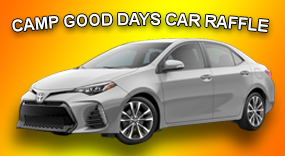 2018-19 Camp Good Days Car Raffle
Enter to win a 2019 Toyota Corolla SE donated by Vanderstyne Toyota and support Camp Good Days.
Read more
Camp Good Days and Special Times, Inc. is a 501(c)3 not-for-profit organization dedicated to improving the quality of life for children, adults and families whose lives have been touched by cancer and other life challenges. All of the programs and services provided by Camp Good Days are offered free of charge for the participants, which is only possible through the generosity of so many individuals and organizations and the success of our many special fundraising events.