Volunteering in WNY!
The WNY Camp Good Days office holds monthly events for our Campers year-round. Since most of our events have parents dropping their children off for activities, we need lots of volunteers to act as chaperones. Not only do you get to join us on a bunch of fun outings, you are making a huge difference to a child affected by cancer.
All volunteers who work directly with our kids must be 18 years or older, have medical insurance and must pass a series of background checks. Volunteer opportunities for children under 18 years of age are available as well! Acceptance into our program is at Camp Good Days' discretion. In addition to working with the Campers locally and/or at our Recreational Facility, we have the following volunteer opportunities (age restrictions may apply, please contact for more information):
Office Assistance, Special Events (Fundraisers, Awareness Campaigns), Gala Committee and Advisory Board. Please contact Alicia Sommer to learn more about these volunteer opportunities.
Volunteer Training
(For those wanting to volunteer with the Camp Kids)
New volunteers interested in working directly with the children must attend a 1.5 hour training, held at our office in Depew. Please email Alicia Sommer to schedule a training.
Camp Good Days doesn't stop after the summer, activities go all year round in WNY! If you are interested in volunteering for Camp Good Days, start here by filling out our online application. Click Here!
Our volunteers in WNY make it possible for our programs and fundraising events to continue. Meet some of the volunteers who help us make a difference in the lives of some very special kids!
2020 Volunteer Spotlights
You can read past years' Spotlights here.
Ed & Lindsey Shanahan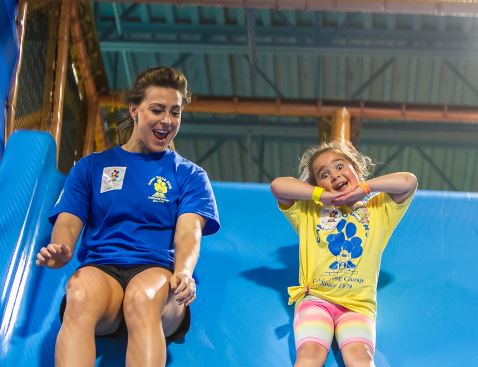 We have a number of couples that volunteer together, one of them being Lindsey and Ed Shanahan! Together they, with their three dogs, Rex, Champ and Luna, live an active lifestyle. They love exercising and then recharging with a good book. Lindsey is a Special Education teacher, with aspirations to continue growing her career in the education field. Ed is a business owner, running his own successful concrete construction and general contracting company. Ed has also been a part of the Hammertime TV series as one of the spotlighted local businesses.
Ed and Lindsey first learned of Camp Good Days through Ed's mom who had volunteered at our annual KazooFest. They were quick to follow, volunteering for KazooFest and the Annual CGD Gala. After the loss of a dear friend to cancer, Ed and Lindsey were inspired to volunteer as counselors. Ed and Lindsey are the type of volunteers that are willing to jump in at a moment's notice and complete their tasks to fullest! This past KazooFest, their shifts were some of the top fundraising shifts! A Camper that volunteered with them during their first shift was so inspired, she signed up with them again the next week! Instead of having a favorite memory from a Camp event, Ed and Lindsey say they savor every moment they have spent getting to know the Campers and love seeing them enjoy themselves at every event. To someone thinking about becoming a counselor they say, "Being a part of Camp Good Days will bring such joy to your life and fill your heart. It is such a wonderful experience and a great organization to dedicate your time. This will impact your life in such an emotional and influential way, your hope is to fill the kids with joy, but you get so much joy added to your life in return."
Renee Nicoloff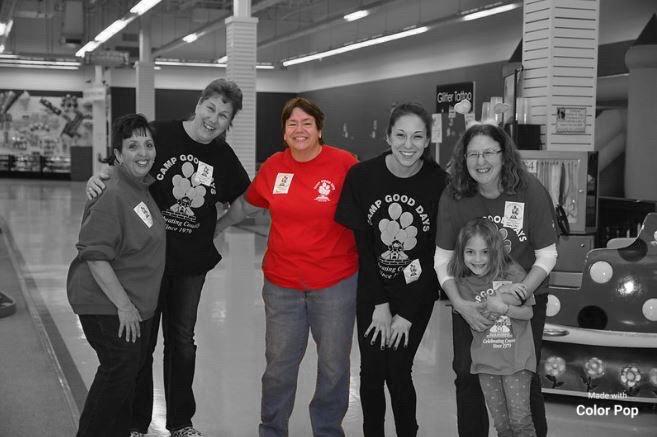 Renee Nicoloff has been a part of the Camp Good Days family for many years. She first became involved when her four-year-old son started as a Camper in 1990. Having experienced firsthand, the impact our programs can make on a child with cancer and his/her whole family, Renee continues her involvement with Camp Good Days as a counselor. Renee is also active with our Women's Oncology program. One of Renee's favorite memories is a classic counselor experience from our Junior Good Days Carnival. Her Camper for the day was able to throw a whip cream pie at her face. She says she will "never forget the look on his face, it was priceless!" She loves seeing how much the Campers light up at every event. She is in constant awe of the difference she can make in their lives as a counselor. During this time, she is missing each and every one of the Campers and cannot wait to see everyone soon!
When not volunteering, she enjoys spending time with her husband, Bob, to whom she has been married to for 32 years. She also likes visiting with her son and daughter-in-law, Nick and Jamie, and of course her grandpuppies, Emerson and Eva. Renee is a cook at a local elementary school. There she is currently working hard with her team to make 650 breakfasts and lunches to feed the community. She also enjoys crafting in her down time…which comes in handy at our annual Ornament Painting event that she is sure never to miss!
Missy Judge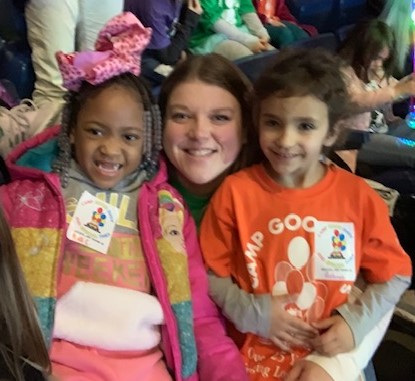 Volunteering with Camp Good Days has become a family affair for the Judge Family. It has been no different for the newest member of the family, Missy Judge! Missy started volunteering with us in 2017 when her now husband, Kevin Judge, asked her if she would like to volunteer with him. Having already heard of Camp Good Days a few years back, Missy was all in! After her first event, she was hooked!
Missy and Kevin just celebrated their one-year wedding anniversary this week! In the past year they have been working on updating their home that they share with their fur babies, Bert and Miss B. While updating their home, Missy is hoping to add a crafting area. When she is not volunteering, she loves the quiet calm feeling that comes with crafting. She also has a love for event planning and design that she discovered while planning her wedding. From the pictures we have seen, we can say she doesn't just have a love for design, but a talent for it; they look stunning!
As a volunteer with Camp Good Days, Missy has truly jumped all in with our programs and events. She has volunteered for The World's Largest Disco, Annual Gala, the charity Scavenger Hunt and of course our Monthly Programs for Campers. Her favorite memory is from the Disney on Ice program for our Junior Good Days Campers this past January. Being a huge Disney fan herself, she loved seeing the Campers sing their hearts out during the show and joining in with them! She says, "Every moment that is spent with the Campers laughing, smiling and singing make for the best memories." To anyone considering joining in on the fun as a Camp Counselor, she says, "Don't be scared. My friends often ask how I work with children with cancer and not be sad? The thing is… Camp is a safe place where we all can come and be kids. It is a place where we help build friendships, confidence and a sense of normalcy for these kids. It is rewarding when you know you've made a child's day brighter just by spending time with them."
Amber Murphy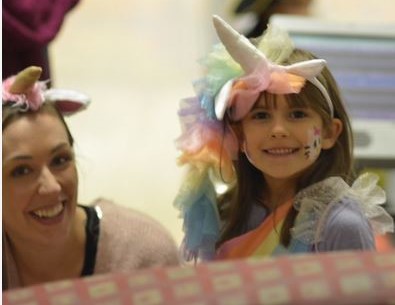 It's probably safe to say that back in 2017, Amber Murphy was not expecting to go to work for the day and find a volunteer opportunity, but that is exactly what happened. Amber was working as a Graduate Assistant for the Buffalo Sabres on the night Camp Good Days held its annual Ornament Painting at KeyBank Arena. She instantly connected with our Campers, counselors and cause. Having a cousin who had undergone treatment for cancer, Amber had wanted to find a way to give back. Once she found Camp Good Days (or rather we found her), she knew this was the opportunity she was looking for. To anyone thinking of becoming a Camp Counselor she says, "Do it! As much as you brighten a Camper's day, they will 100% brighten your day even more."
Amber has participated in many of our monthly programs; Pumpkin Carving and Halloween Bowling are among her favorites since Halloween is her favorite holiday! It is no surprise that her favorite memory from a Camp Good Days event occurred during Halloween Bowling. All excited for the event, Amber dressed up in a unicorn costume (as any rock star counselor would). When her camper arrived, she too, was dressed up as a UNICORN! Amber and her Camper instantly bonded, creating a memorable event for both of them!
Outside of her time spent with us, Amber works for LECOM Harborcenter as their Special Events/ Partner Coordinator. With this connection, she is hoping to bring a skating event to our list of programs! Amber is also surrounded by a big family. Between her two siblings and her combined four nephews and niece (all under the age of 3!), she is always off having tons of family fun. She recently purchased a fixer upper home that she enjoys putting her own personal touches on for her and her two cats, Bandit and Rosemary. If you ask anyone close to her, they are sure to say she is probably putting extra care into redoing her kitchen since Amber loves to bake. So much so that her friends say she should open her own bakery! …Sounds like a counselor we should add to our Cookie Baking kitchen crew!
Kristy Wind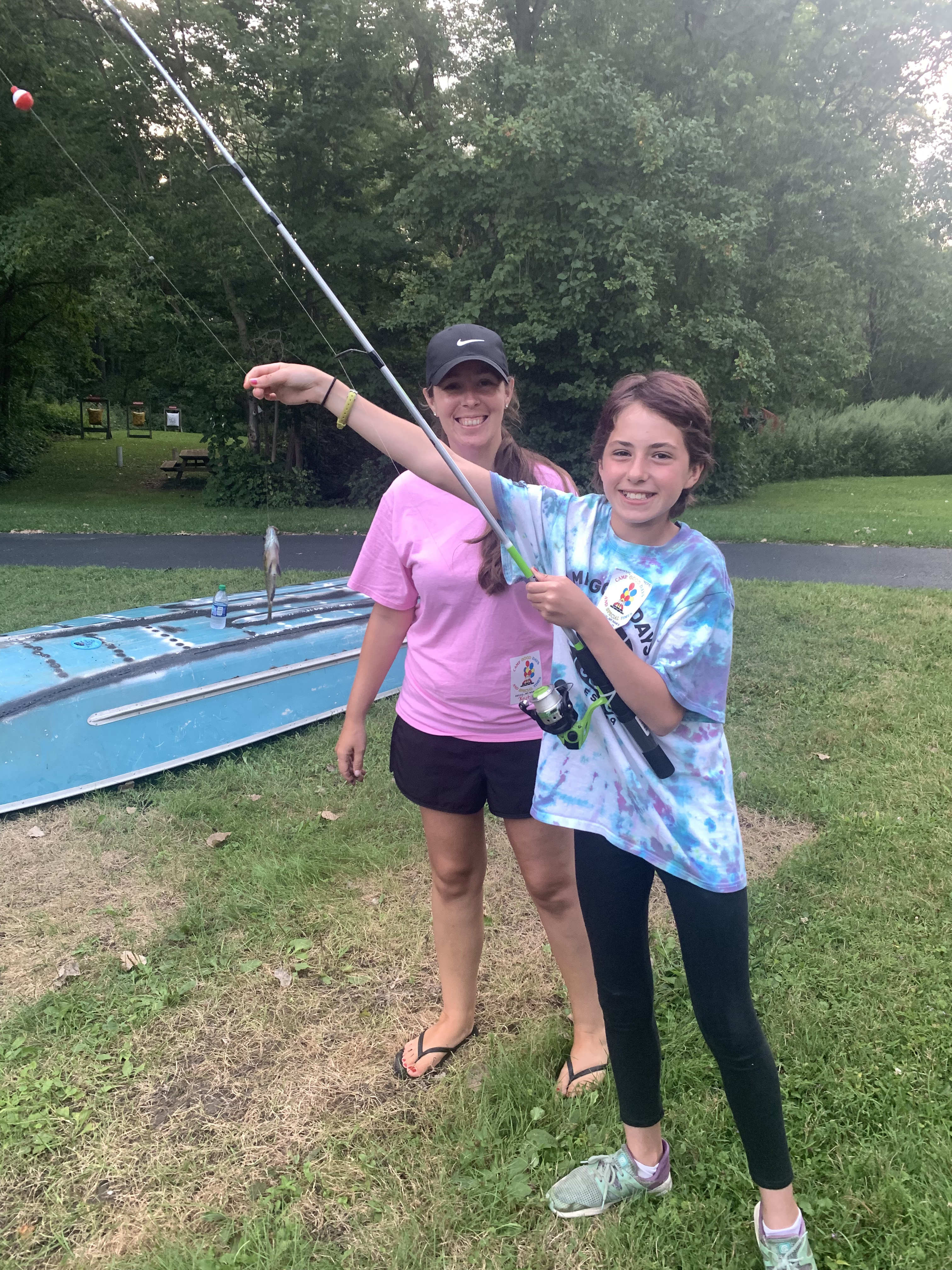 Kristy Wind is no stranger to working with children. On top of being a much-loved teacher at St. Mark School, she also volunteers as a Girl Scout Leader. Kristy and her Girl Scout troop are currently planning a trip across the pond to England! When she is not spending her time with her students and troop, Kristy loves to go camping, fishing and reading as many books as she can! Perfect interests for someone volunteering for a Camp and the Girl Scouts, if you ask us!
Kristy first heard about Camp Good Days in 2011 while she was student teaching. One of her students was undergoing treatment at the time and shared her experience attending Camp programs with Kristy! A colleague of Kristy's also knew of people who had volunteered, and soon after they were helping Kristy sign up to volunteer too! Kristy has since continued the trend of passing along the joy of volunteering with us by bringing on a group of her students to volunteer during KazooFest and encouraging friends of hers to become counselors too.
To anyone thinking about volunteering, Kristy says "it is one of the most rewarding things you will ever give your time to! You will always leave with a smile on your face!" Not only does Kristy leave with a smile, but so do the Campers she works with! Kristy's fondest memory of a Camp event occurred during our fishing event. Kristy says the camper she was paired with for the day had never had the chance to go fishing before. Being a fan of fishing, Kristy was excited to share one of her passions with her young Camper. She taught the child all the tricks she knew, and her Camper ended up catching the most fish of the night! Her Camper was so proud and had the biggest smile while telling her brother all about the experience. It is moments like this that allow us to say Camp Good Days is truly where courage knows no boundaries. A huge part of that truth is because of encouraging, supportive counselors like Kristy!