Programs
Project TIPS
Please check back for updates
* Any rain dates will be the following Friday
Project T.I.P.S. stands for Trust, Information, Programs & Services, and includes community agencies and law enforcement personnel working in selected neighborhoods to rebuild trust amongst residents and share information. Locations are selected by Rochester Police Deputy Chief, LaRon Singletary, along with his command staff, with collaboration from the Rochester Fire Department and other partner agencies.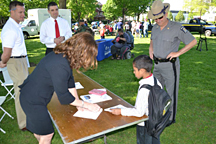 Following the success of the inaugural Project T.I.P.S. event, held in August 2008 in the Dewey and Driving Park community, Project T.I.P.S. was brought to the Dayton Street neighborhood on February, 20, 2009, following the shooting of Rochester Police Department Officer, Anthony DiPonzio. Project T.I.P.S. has also been held on April 16, 2009 in the Jefferson Avenue neighborhood; July 24, 2009 in the Conkey Avenue neighborhood; October 9, 2009 in the Hudson Avenue neighborhood; May 7, 2010 in the Lyell Avenue neighborhood; and on June 25, 2010 in the Ontario & Scio Street neighborhood.
In 2011, the Project T.I.P.S. planning committee determined that it would be beneficial to return to some of the previous Project T.I.P.S. locations. Last year, Project T.I.P.S. returned to the Ontario & Scio Street neighborhood on Friday, May 20, 2011; was held at the intersection of Conkey & Clifford Avenues on Friday, June 17, 2011; returned to the Jefferson Avenue neighborhood on Friday, July 22, 2011; and was held at Jones Park on September 9, 2011. Following a similar format for 2012, the first Project T.I.P.S. event for this year was held on Friday, May 18, 2012, returning to the Jones Park neighborhood. Project T.I.P.S. was also held in the Pulaski Park neighborhood on July 20, 2012.
Since 2012, Project T.I.P.S. has visited eight more locations in the Rochester area, all of which have grown in attendance and community engagement.
Since its inception, Project T.I.P.S. has quickly evolved into a community-wide effort with support and participation from the Partners Against Violence Everywhere (PAVE) Initiative, Project Exile Advisory Board, Rochester Police Department, Rochester Fire Department, City of Rochester Recreation Department, New York State Police, New York State Parole, Pathways to Peace, Monroe County District Attorney's Office, Monroe County Probation, Monroe County Sheriff's Department, US Attorney's Office, Monroe County Department of Human Services, Humane Society at Lollypop Farm, Strong Memorial Hospital, and numerous other law enforcement and community agencies.
For more information to become a Project TIPS partner or vendor, please call 585-624-5555 or contact us.