Programs
Project Exile
Project Exile was started in Rochester in 1998, when Gary Mervis was asked to attend a meeting in a Federal Judge's chambers, where he met then Acting United States Attorney for the Western District of New York, Denise O'Donnell. At the time, the Rochester community was desperately searching for a means in which to address the crime and violence plaguing our community, as Rochester's homicide rate was around 70, giving us the distinction of having the highest per capita homicide rate of any city in New York State. In addition, the previous holiday season three uniformed Rochester police officers were shot and wounded, but thank God were not killed. At the meeting, Mervis learned about the highly successful Project Exile program that had been implemented in Richmond, Virginia by an Assistant United States Attorney.
As a result of t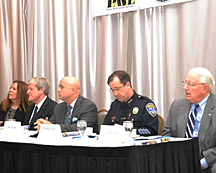 hat meeting, Project Exile was implemented in the Rochester community on September 28, 1998. Project Exile operates under the direction of the Project Exile Advisory Board, comprised of representatives from local, state and federal prosecutors and law enforcement, as well as businesses, clergy, and community organizations and Mervis has been pleased to serve as the Chairman of the Project Exile Advisory Board since its implementation. The Project Exile Advisory Board meets once per month throughout the year, at the Federal Building, to share information and improve communications among those who are waging the battles against illegal guns and drugs in our community.
The Project Exile program has continued to thrive and grow through three administrations; four United States Attorneys for the Western District of New York; two Law Enforcement Liaisons; four FBI Special Agents in Charge; two County Executives; three District Attorneys; two Sheriffs; three Mayors; and four Chiefs of Police.
Under the leadership and direction of Camp Good Days' Partners Against Violence Everywhere (PAVE) Initiative, the Project Exile program in Rochester has been recognized and highlighted at various local, regional and national seminars and conferences, and has served as the impetus for other community-based initiatives such as the Rochester Youth Violence Partnership at the University of Rochester Medical Center and Project T.I.P.S., which stands for (Trust, Information, Programs & Services) and includes community agencies and law enforcement personnel working in selected neighborhoods to rebuild trust amongst residents and share information.
According to the most recent statistics from the Bureau of Alcohol, Tobacco & Firearms and the Rochester Police Department, over the past 16 years, the Project Exile program has helped to remove more than 15,600 illegal guns from the streets of our community, and the homicide rate has not reached the high levels we saw prior to Project Exile.
Summary Of Statistics For Cases Tried
Under Project Exile Program
Number Of Defendants Indicted - 577
Number Of Defendants Charged By Complaint Only - 13
Number Of Informations Filed - 151
Number Of Illegal Guns Removed From The Street - 1168
Number Of Defendants Arraigned - 730
Case Dispositions - 630 / By Guilty Plea - 573 / By Trial - 57
Sentencings - 586
Average Sentence - 63.4 mos.
Total Incarceration Time - 37,188 mos.