38th Annual Tournament of Love
Mon May 24th, 2021 - 11 am to 6 pm
At Monroe Golf Club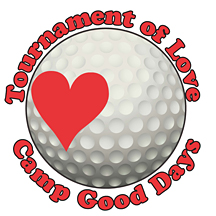 Special thanks to our Presenting Sponsor - Lawley Insurance
This year the Tournament of Love Committee has been working very closely with Monroe Golf Club to ensure the event is safe and enjoyable; all format changes are listed here. You will still get to enjoy 18 holes of golf at the prestigious Monroe Golf Club followed by their popular clam bake and cocktail hour, all while raising money for the children and families of Camp Good Days.
This year, the silent auction is online so anyone can view the items and place bids, even if you are not at the golf tournament! The auction will end at the completion of the tournament at 6 pm. The Auction website can be viewed here.
Sponsorship packages can be purchased here.
Available sponsorship packages (pdf).
To learn more about this event and for sponsorship opportunities, please email or call Jamie Varble 1-800-785-2135.
Rochester, New York Event