Courage Bowl XVIII
Oct. 4th, 2023 2:09 pm
It's hard to believe that this year marks the eighteenth Courage Bowl. Eighteen years ago, I was stopped at a red light when I heard a women yell at her children in the car. When I looked over to them, they were throwing a nerf football to each other and in that moment is when I realized that this sport is so engrained in our culture that almost every child dreams of making that final touchdown. But the children I just left at Camp Good Days couldn't dream of that. While others at their school had a very real possibility of playing on a team in their future, our campers would be unlikely to have that opportunity due to their treatment.
During this time, I was a football coach at St. John Fisher College and at our next coaches meeting I proposed to Coach Vosburgh naming our annual game with U of R the "Courage Bowl" and give some campers the opportunity to serve as honorary coaches on a college level team. The Fisher coaches agreed but told me that I had to sell it to the U of R. I met with their staff, and they loved the idea. At that moment, the Courage Bowl was born. That first Courage Bowl drew in the largest crowd that they had seen thus far, even larger than what there would be for the Bills night practice.
But because U of R wasn't a part of the Empire 8 conference, they didn't have to play us each year. I heard that SUNY Brockport would be interested in becoming a part of the Courage Bowl, so eventually they became our standing opponent for the game. SUNY Brockport continues to make a great partner for this game as they have an expansive Athletic facility as well as also being a member of the Empire 8 conference. We soon decided to alternate each year which campus hosted the game as well as the luncheon to kick off Courage Bowl week.
We had Courage Bowl XVIII as well as the luncheon last week and it was amazing to see the honorary coaches with their team and truly being embraced into a college level football or cheer program.
I was devastated that for the first time in eighteen years I was unable to attend the Courage Bowl game. But from what I heard and the pictures I saw, it turned out to be a great event for our campers. The good lord gave us a perfect night with the moon shining over the field. Our honorary coaches and cheerleaders had the time of their lives being a part of a college team and the players and cheerleaders did a fantastic job at welcoming them. Because I was not able to be at the game, Wendy stepped in for me at half-time to present the Courage Awards. This year we awarded two individuals the Father Joe Lanzalaco Courage Award, which is given to someone who displays courage, strength and determination and is a role model for our children at Camp Good Days. This year Sister Francella Quinn and Dr. Richard Constantino were the recipients of this award. Sister Francella Quinn has been a dedicated volunteer of Camp Good Days for over 30 years and leads a service at the beginning of each camping session. Dr. Constantino is a medical leader in the Rochester community and has been a dedicated member of our community since he started his residency at Rochester General Hospital. Both individuals have displayed courage like I have not seen and live their lives in service of others. While I was sad to not be able to hand the awards to them myself, I could not think of two more deserving individuals.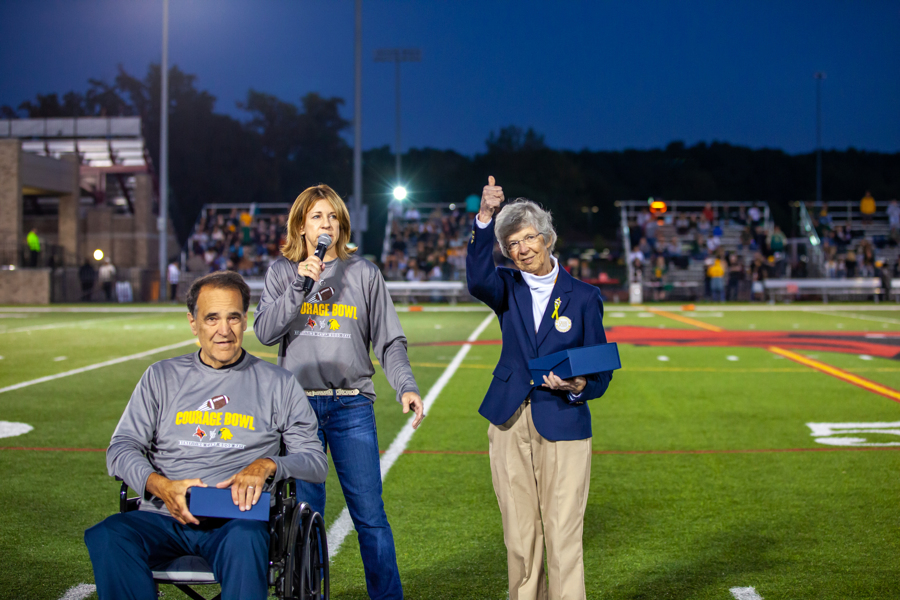 The game ended with a score of 35-18 with SUNY Brockport once again claiming the Courage Bowl trophy. Both teams did a great job and played the game with honor and respect which is all you can ask from an athlete. I am already looking forward to next year!
Thank you to our many volunteers who helped us during the game, St. John Fisher and SUNY Brockport for their commitment to the Courage Bowl, our sponsors including County Executive Adam Bello, and everyone who participated in Courage Bowl XVIII. Thank you for helping us create good days and special times for our campers once again!