Ranger Station Dedication
Jul. 27th, 2023 12:26 pm
Sunday July 23rd was a special day for me and the Camp Good Days family. On Sunday, we gathered at the Camp Good Days facility on Keuka Lake to dedicate our volunteer Ranger Station to two very special volunteer rangers, former Captain in the State Police Dave Stebbins and former RPD officer Dave MacFall. We were blessed with a beautiful day to hold this ceremony and to have the opportunity to share this special moment with campers and volunteers from our Doing a World of Good camp. Campers from Spain, Tampa, Germany, Czech Republic, and of course New York made up our D.A.W.G. program this year and I was happy to be able to share precious memories about these two volunteer Rangers with them.
Our Ranger Station was built in 2015 thanks to the generosity of John and Evelyn Nobrega. This building represents safety and security on the Camp property. It will now serve as a place of remembrance of two very important rangers in the Camp Good Days family.
The dedication started with lunch on the waterfront area of Camp where camp staff, the families of the dedicatees, as well as various members of law enforcement gathered. Everyone was able to meet each other and share memories of times at Camp Good Days. It was followed by a short service at the Camp's outdoor chapel led by Sister Fran Quinn. Everyone was then led to the volunteer Ranger Station for the dedication. After the blessing was given by Sister Fran, Otto, a longtime volunteer Ranger and supporter of Camp Good Days, dedicated the Ranger Station to Dave Stebbins and Dave MacFall. A plaque was then hung to forever commemorate their legacies.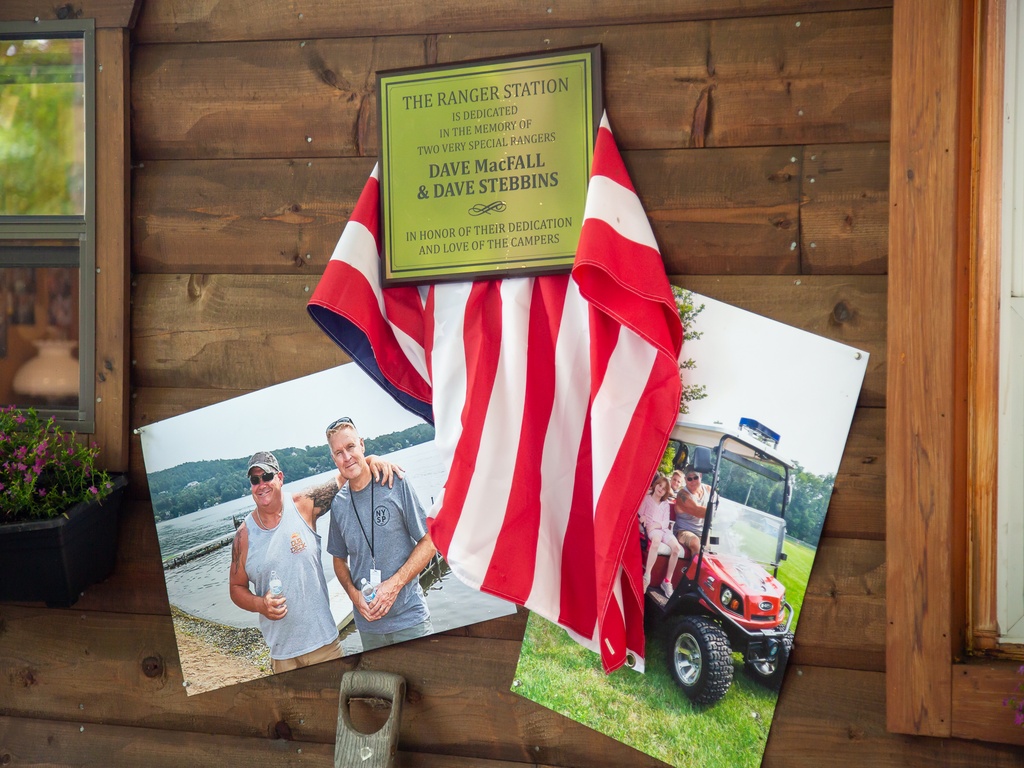 These two men came to Camp as strangers and left and lifelong friends. They both were exceptional law enforcement officers and even better humans that dedicated their lives to supporting and protecting others. They exemplified what it meant to be a volunteer Ranger at Camp Good Days. Every year, I make a promise to our Campers' parents that we will send our Campers home in the same, if not better, shape as they came; I promise to keep them safe. I would not be able to keep that promise without our Rangers. They enable me and the Camp Good Days staff to keep this Camp open and our programs running, ensuring that our Campers are safe, which is our number one priority.
I am so pleased that we were able to dedicate this Ranger Station. I could not think of anyone more deserving than both Dave Stebbins and Dave MacFall. This sets in stone their memories and ensures that they both will forever be a part of Camp Good Days.