October Blog
Oct. 14th, 2021 4:14 pm
Sometimes, I feel like the luckiest person in the world. Why you may ask? For the last 43 years, I come into my office and I'm excited to continue changing the lives of children affected by cancer and sickle cell anemia. No two days are ever the same–one day, I could be hearing updates about how one camper is in remission, while the next day, I'm sitting on the sidelines of the Courage Bowl, watching our honorary coaches and cheerleaders in awe as they experience their first collegiate football game. After this year's game, it became quite clear to me just how lucky I am to have started something so special, so close to my heart. I think Teddi would be proud of what Camp Good Days has become.
Since Courage Bowl's inception 16 years ago, I have, again, been so lucky as to combine my two loves: Camp Good Days, in memory of my daughter, and football, the game that absolutely feeds my soul. This one night allows for a few campers to experience a collegiate football game, as well as interactions with the players. It's a bonding experience for everyone, especially our honorary coaches and cheerleaders. This year, however, was extremely difficult. Usually, we have a practice where the campers come to Growney Stadium, be with the team, and receive their jerseys that the players signed. For Courage Bowl XVI, that practice didn't happen. This didn't really impact the coaches and cheerleaders that could attend the game, but for one of our honorary coaches, Craig, he was too sick to attend.
Thankfully, our Camp Director, Caitlyn, was able to bring Craig his jersey, so it felt like he hadn't missed the game at all. I walked into the office this past week to come across a photo that Craig's mom sent in–Craig was beaming from ear to ear while wearing his jersey! It was amazing for me especially, because this shows how a simple football game can change a life in such a monumental way.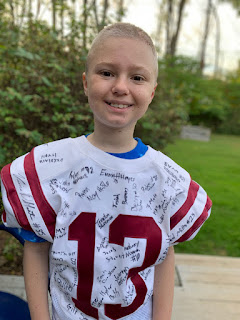 Craig's mom, Kim, continues to post updates on his treatment on CaringBridge, where supporters can log on and send their best wishes to Craig and his family. The website can be found below:
https://www.caringbridge.org/visit/craigy
Join me in keeping the Winter family in your thoughts and prayers, and maybe say a little prayer for me as well!
I'm glad I had the opportunity to share Craig's wonderful story with you all, and I hope you have a fun and safe Halloween!