Mon, Jan 26th 2015 11:00 am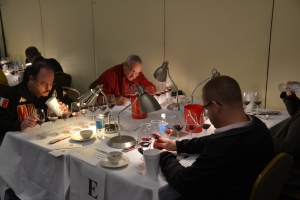 MENDON, NY — Starting today, commercial vintners from wine-producing countries around the world are invited to enter wines in the Finger Lakes International Wine Competition (FLIWC). The renowned two-day competition is slated for March 21-22, at the Rochester Plaza Hotel, 70 State St., in Rochester, N.Y. Wines can be shipped to Camp Good Days and Special Times, located at 1332 Pittsford Mendon Rd, Mendon, NY 14506. The entry deadline is February 27, 2015, and all wines must be received by March 6, 2015.
The 15th Annual Finger Lakes International Wine Competition is judged by a diverse and highly skilled group of 72 national and international judges representing sommeliers, educators, enologists, winemakers, writers, importers, retailers and industry consultants from Argentina, Australia, Chile, Czech Republic, France, Germany, Israel, Italy, and elsewhere, as well as the United States.
"There is no better place in the world where you can get such an expert judgment of wines," said Peter Parts, event founder and president of Peter Parts Electronics. "The Finger Lakes International Wine Competition has the most diverse international group of judges ever assembled, featuring judges from 15 states and 18 countries. If you get a medal at this competition, you've truly produced a special wine."
All judging is single blind tasting and awarded on four levels of excellence: Double Gold (unanimous panel vote), Gold, Silver and Bronze.
The most prestigious wine awards at the FLIWC are:
- The Annual John Rose Award for the highest scoring Riesling (dry, semi sweet or sweet)
- The Crystal Grape Award for the highest scoring ice wine
- The highest scoring Double Gold Chardonnay, Cabernet Sauvignon, Cabernet Franc, Sauvignon Blanc, Late Harvest Riesling, and Merlot
"Last year, more than 3,750 wines from 20 countries, 6 Canadian provinces and all 50 states were judged," Parts said. "We're aiming for another record year, and hoping to receive 4,000 entries in the competition."
FLIWC is the largest charitable wine competition in North America. All net proceeds benefit Camp Good Days and Special Times. Located in the heart of New York State's Finger Lakes wine country, this not-for-profit organization is dedicated to improving the quality of life for children, adults and families whose lives have been touched by cancer and other life-threatening challenges.
Award-winning wines will be featured at several public events following the competition, including the annual wine auction dinner in May to benefit Camp Good Days and Special Times, which attracts nearly 1,500 wine aficionados and collectors.
Wines may be entered online at www.fliwc.com. The deadline for entries is February 27, 2015. All wines must be shipped by March 6, 2015 and arrive no later than March 10th. Visit our website for all competition rules and entry, and shipping instructions.
For more information regarding Finger Lakes International Wine Competition rules or entry classes, contact David G. Male at 716-634-2456 or davidfliwc@gmail.com or Ron Dougherty at 585-414-8279 or rondougherty@me.com. For shipping and billing information contact Karl Rudolfs at 800-785-2135 or kruldolfs@campgooddays.org. For information on registration, contact Brittany Wilson at 800-785-2135 or bwilson@campgooddays.org.