Courage Bowl XVI
Sat Oct 2nd, 2021 - 6 to 10 pm
At St. John Fisher College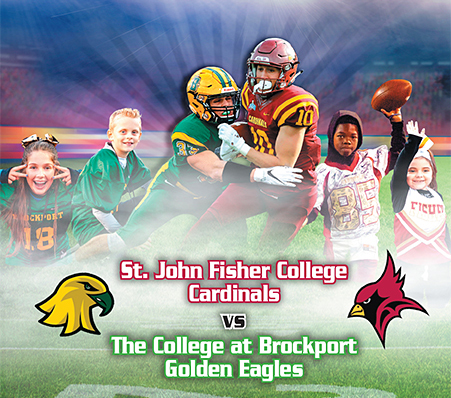 On Saturday, October 2nd, 2021, Camp Good Days' COURAGE BOWL XVI, the annual football game between the St. John Fisher College Cardinals and The College at Brockport Golden Eagles, to benefit the children and families at Camp Good Days, will be played at Growney Stadium on the campus of St. John Fisher College, with kick-off slated for 6:00 PM. What is dubbed "Courage Bowl Week" in Monroe County, the president of the hosting school invites campers and their families to meet the team and the campus community.
The Courage Bowl has grown into one of Camp Good Days' largest fundraisers since its inception in 2004.
Each year, the St. John Fisher College Cardinals and The College at Brockport Golden Eagles square off in a Division III football game to benefit Camp Good Days.
Prior to The College at Brockport, the University of Rochester and Alfred University had been opponents of St. John Fisher in The Courage Bowl.
For the game, Camp Good Days selects honorary coaches and cheerleaders for both teams. These are Camp Good Days campers who have been diagnosed with cancer or sickle cell anemia and would normally not be allowed to participate in a real football game. The Camp Good Days Courage Bowl gives these campers that opportunity.
At the conclusion of the Courage Bowl, the Teddi Trophy, named in memory of Teddi Mervis, Gary Mervis' daughter and the inspiration behind Camp Good Days, will be presented, which will later be inscribed with the date of the game, final score of the game, names of the six Honorary Coaches and the names of one player from each team who displays exceptional leadership and sportsmanship.
If you are interested in sponsoring The Courage Bowl, contact us at [email protected] or call 800-785-2135.
General Events Event