Check In: Begins at 8:00 AM
Ride: Begins at 10:00 AM
Post Ride BBQ
Tour de Teddi is a bike ride around the beautiful Finger Lakes Region; started back in 1990 as a way to create awareness for Camp Good Days & Special Times. This year's ride will be held on Saturday, September 7th, 2019 and will begin and end at our Recreational Facility. Riders can choose between two courses one that is 27 miles and the other that is 45 miles around beautiful Keuka Lake. Once completed, you are then invited to join us and the other riders for a lunch at our water front. Our Honorary Chairman for this ride is Fickle 93.3 on-air personality Dino Kay.
Special thanks to our Title Sponsor, TruePath Technologies and the Mechanical Support Sponsors, Bert's Bikes and Park Avenue Bike Shop.
All of the proceeds from this ride will go directly toward the programs and services that Camp Good Days & Special Times has to offer for children and families impacted by cancer. All of the programs and services are provided free to not place any extra financial burden on the families during this already challenging time.
Visit the Tour de Teddi Website for all of the details and to register.
Raise the amounts below for these great gifts! Participants will receive items on the day of Tour de Teddi.
$150 Level
2019 Louis Garneau Tour de Teddi Jersey
$250 Level
2019 Louis Garneau Tour de Teddi Jersey & Cycling Socks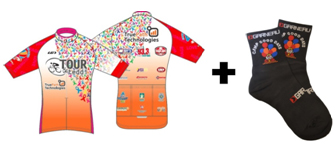 $350 Level
2019 Louis Garneau Tour de Teddi Jersey, Cycling Socks & Gift Cards

Sponsored By:

| | | |
| --- | --- | --- |
| | | |
| | | |
| | | |
| | | |
| | | |
| | | |
| | | |